Sara Shirley
Intuitive Healer, Spiritual Teacher & Channel for Mary Magdalene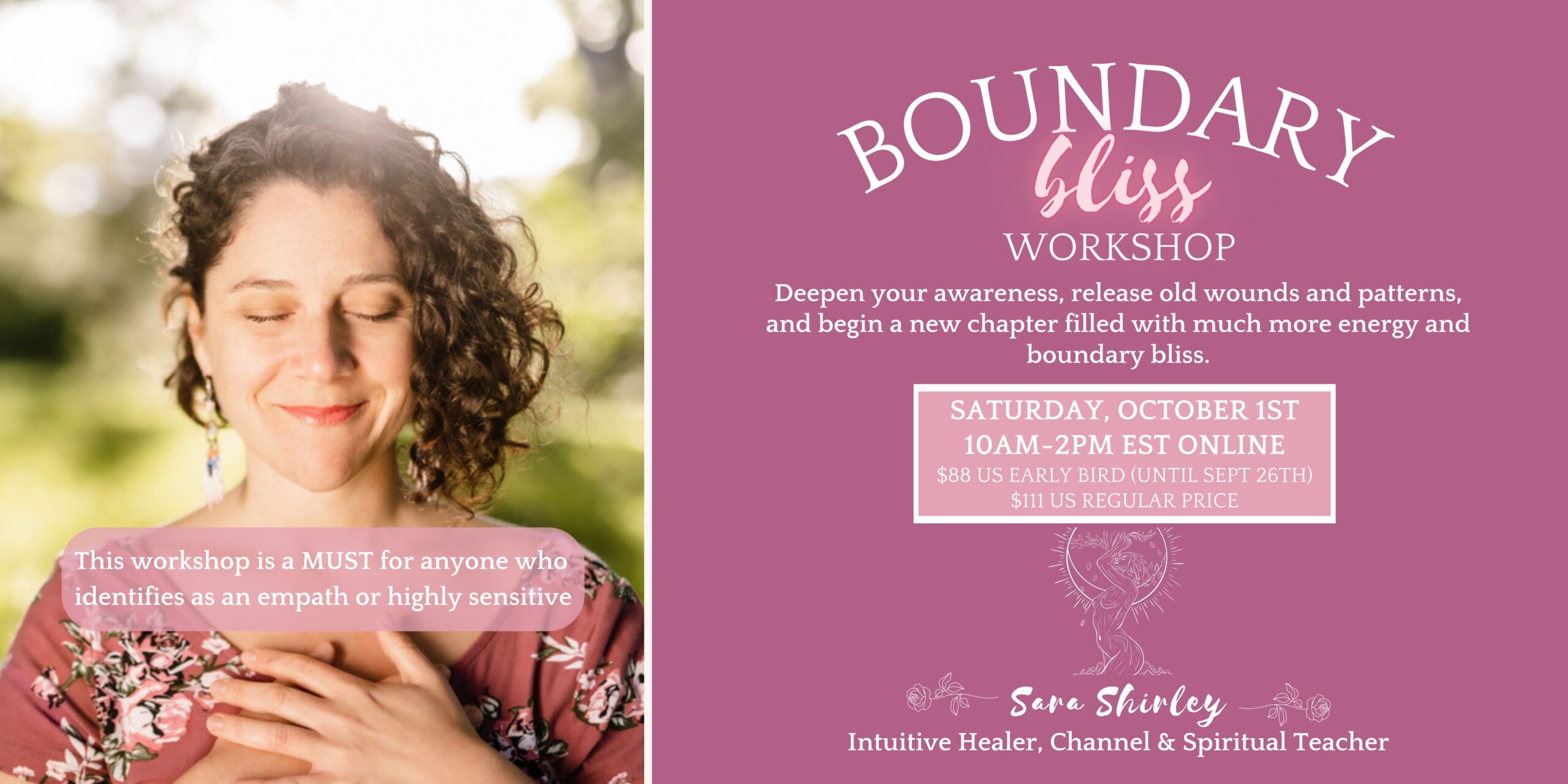 OCTOBER 1ST, 2022
10:00AM-2:00PM EST
(Time zone converter)
As a sensitive person, my journey with learning about and healing my energetic boundaries has been monumentally life-changing.
In this workshop, you will:
🌸 Learn which boundary "syndromes" you may have taken on in your life that are imbalanced and
causing you to suffer so that you can transmute them into healthier behaviours and beliefs.
🌸 Explore your storyline with energetic boundaries and begin to write a new story moving forward.
🌸 Learn strategies for healing your boundaries, how to strengthen your boundaries, energy hygiene and
how to keep developing a deeper and deeper awareness of energy.
🌸 Learn how to confidently and lovingly express your boundaries to others.
🌸 Receive a powerful healing transmission & guided meditation.
🌸 And more!
Deepen your awareness, release old wounds and patterns,
and begin a new chapter filled with much more energy and boundary bliss.
This will be a small and intimate group container. A recording will be available for those who register in advance.
PRICING
$88 US early bird until September 26th
$111 regular price
How to Register
Please email info @ sarashirley.com for PayPal link
(Canadians also welcome to send e-transfer for equivalent amount)
Testimonials from past workshop participants
"I'm so grateful for the safe and grounded, intuitive-embracing space Sara creates in her workshops and meditations. I'm able to see myself and my choices throughout life more fully and with a deeper understanding. Sara's knowledge shares have really illuminated a path forward for me–one where I continue to choose with more awareness. Sara, I'm continually in awe of how you lead by example as a healer. You provide that just-right-level-of-guidance that gently expands what's possible for me and empowers me to act"
-Megan
"I have been attending Sara's workshops for the past year and loving all of them, and I thought that the timing of this one couldn't have been more perfect. I've been working on boundaries my whole life, and this definitely introduced some powerful insights as well as deep healing. It was also beautiful and comforting to be able to share this time in my journey with others who are also facing similar issues."
-Caitlin
Deepen your connection with the 4 elements:
Air, Fire, Water, Earth
Learn about the qualities and healing properties of each of the elements, explore different practices, be led on epic guided meditations, and journey with a group of like-minded beings in this 4-week container through October 2022.
*More info coming soon. Email info @ sarashirley.com if you're interested in joining.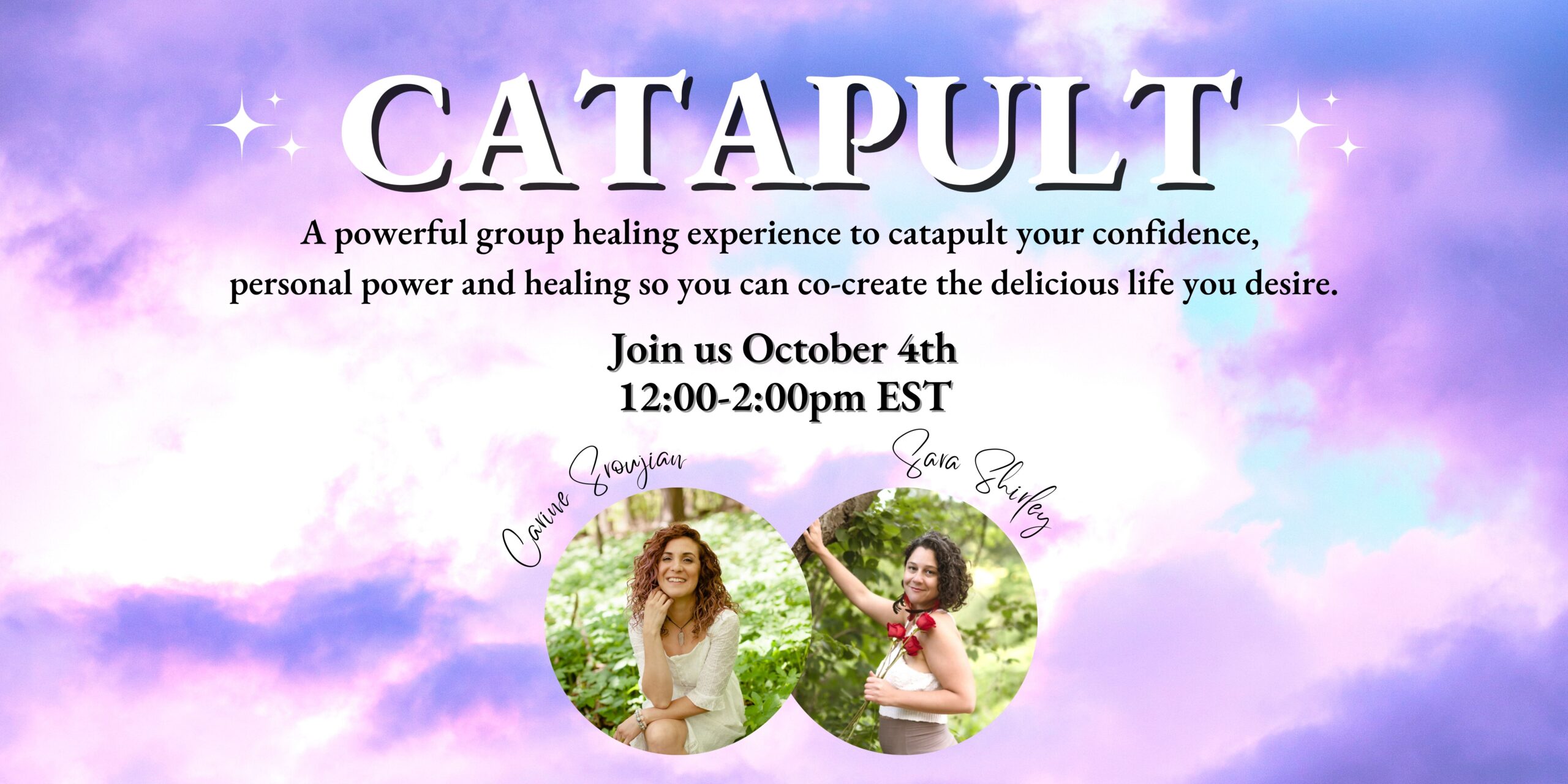 ✨ Raise your vibration
✨ Clear blocks that are holding you back from truly stepping into your power
✨ Deepen self-awareness and connection to your intuition 
✨ Shed limiting beliefs
✨ Expand your self-love
✨ Come and be held, nurtured and loved in a safe healing container
The experience
Opening ceremony
Meditation
Light language activation
Somatic movement and breathwork
Individual hot seat healings
And more!
Pricing
$88 US early bird until September 28th at midnight
$111 US regular price
(Canadians also welcome to send e-transfer for equivalent amount to info @ sarashirley.com)
Please email me in addition to sending e-transfer