Sister, it's time to alchemize and transform the pains of the past, honour and activate your divine gifts, rise into your power and be of service in this magical world!
You've been hearing the call for quite some time now.

You know you have spiritual and intuitive gifts, but you know there's more to learn.
The doubt and challenge feel overwhelming. 
But…
You have a deep knowing that this is your path and you're willing to do what it takes to get there.

I see you, sister. Take my hand. I've been there before.

I'm here to help you step into your power as the healer, lightworker, or alchemist that you are.
To realize your full worth and live a juicy, nourishing and expansive life. 
A life of carrying out your Soul's work,
A life of divine Service.
A life of divine abundance.
Imagine
By the end of this 6 month program,

Showing up fully in your power and knowing your place in t
he world
Being fearlessly visible as the healer and lightworker you're meant to be
Being in the driver's seat and a conscious creatrix of the life your soul desires
Activating and beaming your inner light and sparkle to make the world a brighter place
Receiving that light right back to live a magical, meaningful and abundant life filled with love



Embodying the warrior Goddess energy who is ready to face whatever comes her way because she knows she's worth it
Connecting with a growing soul tribe of sisters who are on a similar journey
Serving to your highest potential and making an impact in the world
You know your place in the world and have ditched playing small and gotten back into the driver's seat.
Your inner light is beaming, you have your sparkle back and the world looks brighter.
You are the alchemist of your own life and it feels incredible.
You are now fearlessly visible as the healer and lightworker you are, serving to your highest potential and living a meaningful life!
Bi-weekly LIVE group  training classes
recorded (1-1.5hrs) – will include teachings, guided meditations, healing transmissions, Q&A and more.
6 x 75 mins
1:1 healing sessions
We will go deep together in these private sessions to clear away childhood, ancestral and past life wounds that are hold you back from the life you are meant to live.
4 x 30 mins 1:1 biz strategy sessions
I will give you advice, guidance and feedback with any questions you have related to your healing business, and help you find ways to create a business that flows with the lifestyle you desire.
Reiki 1 & 2 video trainings & attunements
Reiki is a powerful healing modality to help you channel healing energy into others. Learn the Reiki healing symbols and receive the energetic attunements to levels 1 & 2
practice
Online group healing exchange with other students 1/month
COMMUNITY
Enjoy our private online community, off social media, so you can process your learnings, share your wins and support one another.
Accountability
Get partnered with another sister to help keep track of your progress together, cheer each other on, and feel supported.
certification

Program certification upon completion of 10 case studies performed during/after your time in the program

Week 1
Activating your Priestess powers with Mary Magdalene and Goddess Isis
Week 2

Healing the mother/father wounds + the OCA technique
Week 3

Inner child healing
Week 4

Working with the Divine Mother Archetype – Mother Earth, Mother Mary, Grandmother Anna
Week 5

Working with the Divine Father Archetype – Christ and Father Sun
WEEK 6

Healing with the 4 Elements of Nature (Earth, Air, Water, Fire +trees)
Week 7

Clearing Fear and Expanding your Confidence as a Healer
Week 8

The Art of Holding Sacred Space for Others
 +Lots more goodies to come! 
Upcoming:

Understanding the Divine Feminine and Divine Masculine Energies
Energetic cord cutting
Soul retrieval
Past life healing
Ancestral healing
Working with Spirit Guides, Angels, Animal Spirit Guides
Energetic boundaries
Clearing abundance blockages
Business strategy
And much more.
Modules
FROM THE LIGHTWORKERS SCHOOL OF ALCHEMY
Plus!!! Receive all pre-recorded modules from the Lightworkers School of Alchemy
Week 1: Connect to a Higher Power
Learn to connect energetically to a Higher Power,
trust more in your own intuition and forge your own spiritual path.

Week 2: Embrace your Wholeness
Step more into your authenticity and activate your voice.
Love your sensitivity and let go of perfectionism and comparison.

Week 3 & 4: Clear your blockages
Explore inner child work, which will help you get to the root cause
of your struggles with money and self-love so you can
transmute them and learn to re-parent yourself.

Week 5: Create your sacred temple
Care for your space, your home and
your body so you can give from a full cup.

Week 6: Commit to your rituals
Establish a routine for your spiritual rituals
so you can feel vibrant and alive.

Week 7: Create clarity about your spiritual gifts
Learn about the different types of psychic/intuitive abilities.
Practice and hone them so you can feel
confident to offer them to the world.
Week 8: Boundaries for the sensitive soul
Embody saying "no," release over-giving and
learn to energetically protect yourself so you
stop absorbing other people's energy.

Week 9: Manifest your heart's desires
Master strategies and ways of being to attract
everything you can dream of, and more!

Week 10: Become clear on your
soul client & your offering
Have a very clear idea of WHO
you're serving and HOW.

Week 11: Soulful Sales + Staying Consistent
Learn how to sell with ease and grace,
and how to stay consistent in your business
so you remain visible to your soul clients.

Week 12: Serve to infinity
Learn how to keep upleveling yourself
and your business so you can continue
to grow and flourish as a lightworker
Are you ready to become the healer & lightworker that you're meant to be?
"The session I had with Sara was honestly the most enlightening and cathartic experience. She helped me to understand where my blocks were coming from and energetically helped me to release all of the years of trapped energy and pain that I was holding in my physical body"
-Laura
"Every time I would try to launch my business, which I've done multiple times, I'd just get this awful anxiety, all my confidence would just literally go away, and I'd end up not launching my business…
She identified and removed these blockages from my throat and solar plexus and no joke, I could actually feel it in my physical body, her pulling it out.
I'm just about to launch my business now, and I just feel so calm about it. I feel really confident and I just feel like something has definitely changed and clicked to enable me to do it this time without self-sabotaging myself. Literally a dream come true!"
-Sol
"My time working with Sara has helped me to show up in a bigger way. More aligned and more connected to the true essence of what it is I'm supposed to be doing.
I was experiencing some self-sabotaging behaviour…
She was really able to help me pull out that negative energy behind the root problem and I am so forever grateful for that."
-Camille
Why work with me?
I've been exactly where you are at right now.
I'm a highly sensitive and empathic being and have always been quite intuitive – I just didn't know how to use my gifts in a positive and healthy way (for myself firstly, and then for others!). On top of that, much of my life, I knew I wanted to connect to a higher power and lead a more spiritual life, but I just didn't know how.
I struggled with anxiety and major fatigue and didn't believe in myself.
But I made a commitment to myself and made it my #1 priority to heal and transmute my painful childhood and other experiences that held me back from living in my power. And my inner and outer worlds have transformed as a result!
I couldn't have done it without the help of teachers, friends, books and the trainings that have helped me along the way.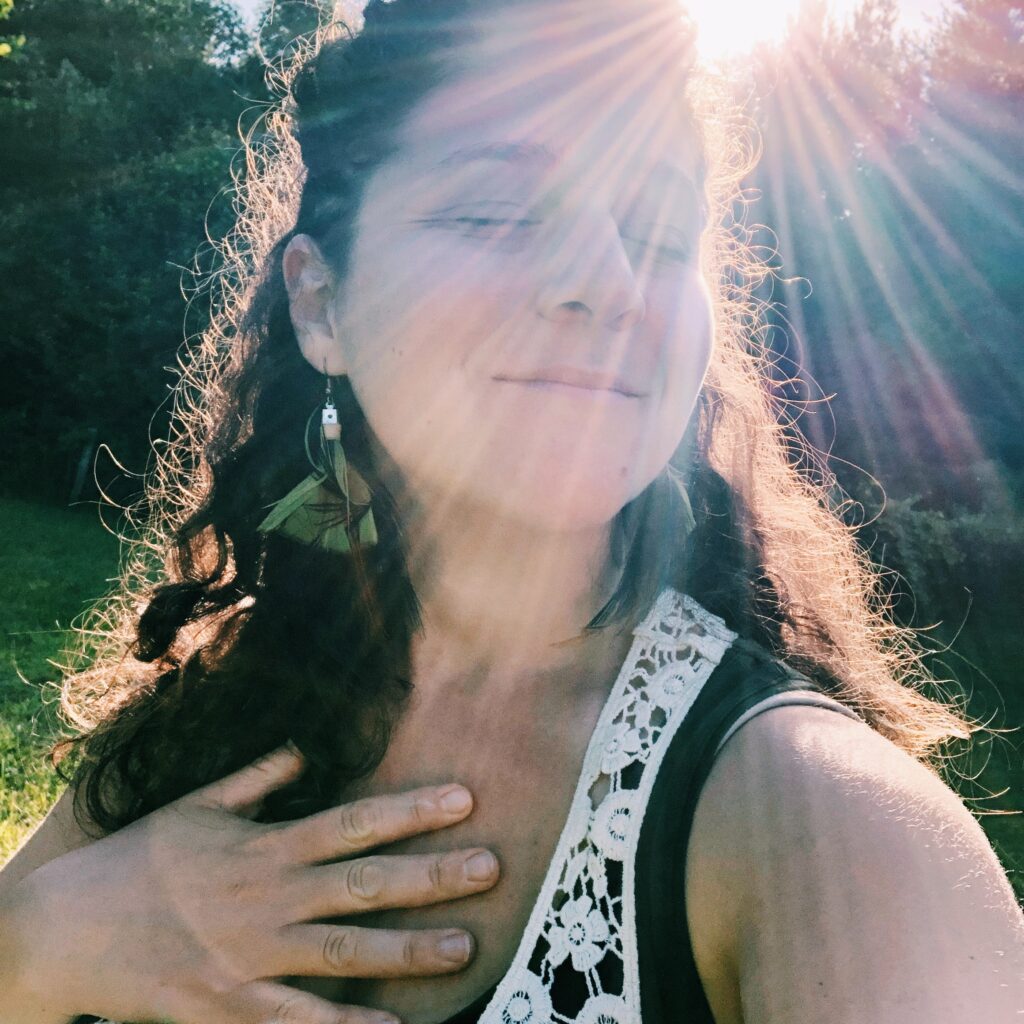 Here's the thing, if you were meant to do it on your own, you would have done it by now. It's time to finally believe in yourself to give yourself and your life the investment it needs to truly expand, thrive and serve!
Allow me to help you see your MAGIC, darling.  
Here's what else I want you to know about me that differentiates me from many of the other healers and teachers out there:

I

will truly push and inspire you to believe in your own intuition and abilities.
I have a strong balance with Mother Earth and the energies of the Heavens.
I can intuitively feel very deeply.


I'm a Reiki Master and a Priestess of Light.

I'm grounded and down-to-earth. I will teach you how to feel like you belong and how to thrive in your work (on this planet, not just in the ethers!).

Sister, are you ready to rise up?
Book a free Discovery call with me to see if this program is the right fit for you!